~ Flashback - Bon Temps, Louisiana June 19th 1861~
William Compton felt the sun on his skin, creating a velvet of warmth illuminating him in a cloak of eternal bliss. His skin drinking in the rays of bright sunlight that shone down on his face. The gentle breeze brushed over his skin eloping him to a place that he could not be touched. He was welcomed into the garden of enlightenment. He had everything that he ever needed or wanted. A loving wife Caroline and a beautiful daughter Sarah, what more could a man want.
He felt the arms of his wife Caroline drape around his shoulders, feeling her soft peach like skin brush against the brittle stubble on his cheek, a soft pair of lips brush lightly over his neck. He felt a chill travel through his spine even though it was a hot summers day, one of the hottest so far.
"Beautiful day isn't it" Caroline smirked against his cheek.
"It is" he replied back to his wife.
"Sarah is asking for you" she said gently kissing his neck.
"How is she?" William turned to face Caroline.
"Better...Still has a slight fever. She will be well soon...Come. I will make you some tea" she smirked holding out her hand.77
William accepted her hand as he let her lead him back towards their home. Upon entering the home, he was greeted with stale heat, that clung to his skin forming a thin layer of sweat across the back of his neck and across his arms. He began to head towards his daughter's room, even in this blistering heat she had become ill. But nothing that a few days in bed couldn't handle. He knocked on his daughter's door as he entered finding her laid in bed.
"Sarah sweetheart...Your mother told me you asked for me?" he smiled softly as he entered the room.
"Papa...You came" she smiled sweetly and soon started into a fit of coughs and sneezes.
William sat himself down on the edge of her bed and wrapped his hands around hers. He looked down at her tiny soft hands, but they were no longer tiny, she were much bigger and much more frail.
"Sarah?" he questioned pained as he stared at her hands as he looked up and it was not his young daughter Sarah.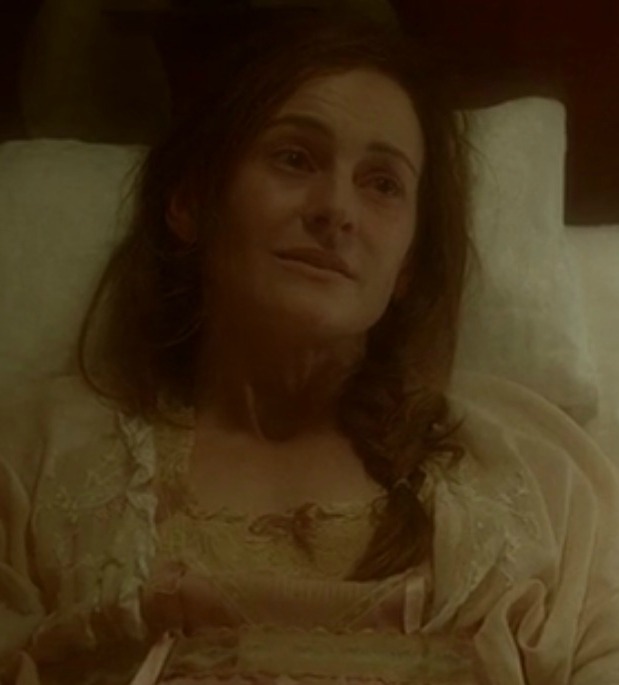 "Father....Father its me" she spoke weakly and frail.
William backed up away from the woman in his daughters bed.
"Father.....What's wrong" she whispered as she began a coughing fit.
"You. Are. Not. My. Daughter" he hissed at her
"Father.....Help me" she cried out.
"YOU. ARE. NOT. MY. DAUGHTER!" he hissed at her.
"I...I am your daughter" she pleaded with him.
William launched at her as his hands gripped around her desk, squeezing her windpipe as her arms waved about trying to push him off.
"YOU ARE NOT MY DAUGHTER!" he spat again.
Sarah's eyes rolled into the back of her head, her body becoming weak as she struggled for breath, her arms flying about soon became a gentle wave of her hands as they flopped to the bedside as she took her final breath.
"Fath....." and with that she was gone.
Dead.
He released his hands as he back away slowly from the bed, his eyes wide with intense shock....What had he done? He could feel something wet on his hands as he looked down at them, they were covered in blood.
"Your Majesty.....Your Majesty........Your Majesty.......Mr Compton!"
~ End of Flashback ~
Last edited by Bill Compton on Wed May 29, 2013 6:54 am; edited 1 time in total