I looked my outfit over again for the fifth time wondering if I was too dressed up, or not dressed up enough. After changing outfits a few times I decided on a simple summer dress. Peach in color and ruffled at the collar bone. It would have to do. I was so nervous, this was TECHNICALLY our first date.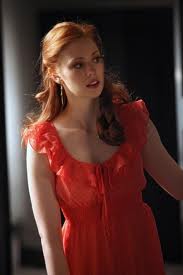 I pinned my hair up half way leaving loose curls as I slid my shoes on and checked messages. Being a vampire had its advantages on getting ready. He said he was on his way fifteen minutes ago and he should be here soon. I checked my teeth and made sure I downed two bottles of True Blood, then brushed again before heading downstairs. I had no idea what we were doing or where we were going, but all that mattered was I'd be with him.
I heard his truck down the road and froze on the staircase. Here goes nothing.....