~St Croix Memorial Night Gardens~
James sat down at the desk in his office, looking over the gardens with their crowds and smiled. He knew that the public would love the idea of a garden designed for walking at night. His dream of making a lasting memorial for his Maker had come true. He pulled out a sheet of stationary and began to write.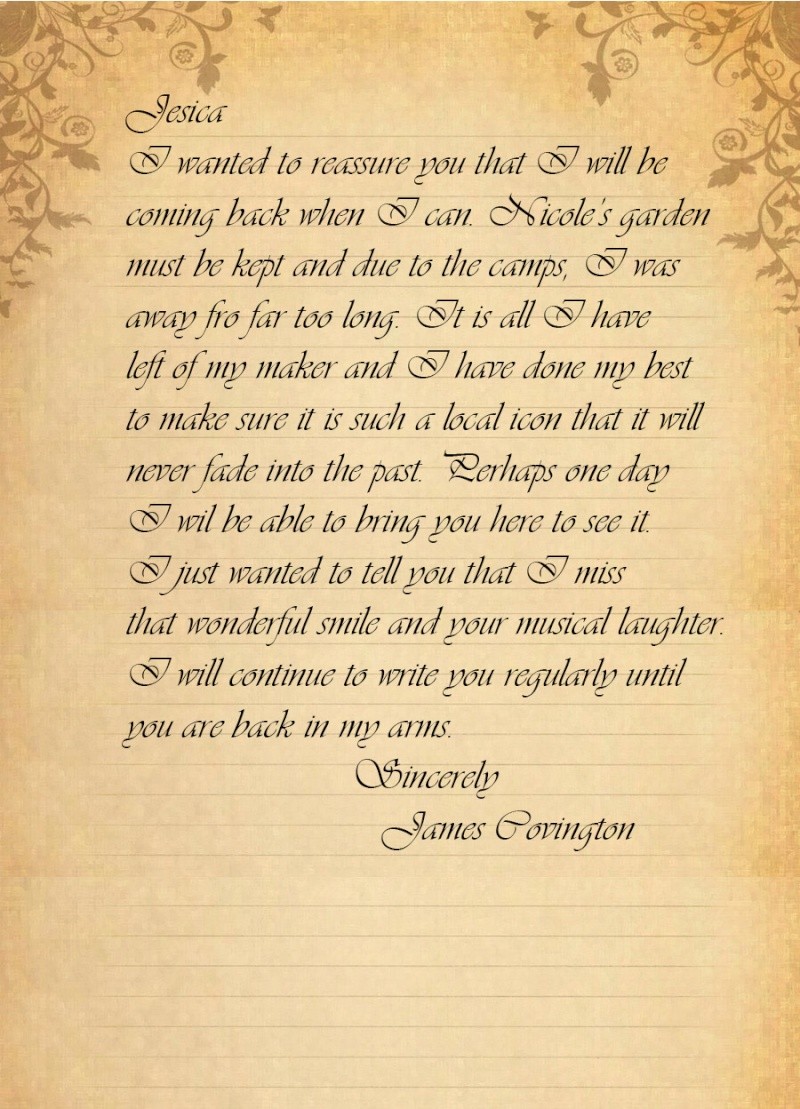 He smiled and sealed the letter. He called one of the staff over, handing him the letter with instructions to deliver it to the King's estate in Bon Temps. As the man ran off, James realized he still had Jessica's letter. He carefully opened the crumpled envelope and began to read...
Dear James,
I never expected the feelings I have, I never expected anything. I assumed that day at the vampire camp would be my last. The kindness and sacrifice you showed me I had never before been shown by a vampire. It shocked me and I guess that's where it all began. I wanted to know you, I wanted to thank you. Things...escalated and I want you to know I do not regret it. I don't. But something changed that day and I saw the possibility, the chance I could have. My other option, if you will. And it scared...and confused me.
As much as I wanted to say you were just my friend, I knew I was lying to myself. I do...love you. I do...care for you. I even...like you. But the question still remains is how much, what kind of love I feel for you. That all has to be discovered with time. I know I asked for time and I know you are willing to give me just that. I have some things within myself to fix and I don't want to give you this broken girl, this...monster. I don't want to hurt you. I can't.
I won't be far, I will be back...but right now I just need some time to think. I need to get myself together before I face you again. I will find you...please don't look for me.
--Jess
He set the letter down on his desk. Of course his first instinct was to ignore her request and search for her, but what right did he have to do that? He had left as well. He spent the rest of the night contemplating the implications of her letter and looking over the gardens.